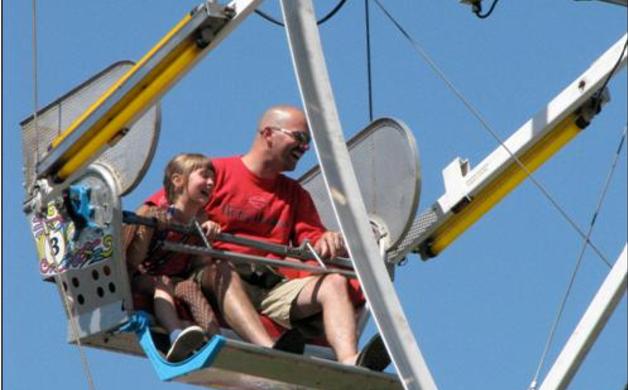 Tickets for the popular Dixon May Fair grandstand shows, Fair admission, and carnival wristbands are now available for purchase for the upcoming Fair, May 8-11.
The Fair has a number of opportunities that make it a bit more affordable and save time when you buy your Fair and Grandstand show tickets early using their e-ticket system. Purchases can also be made at the Fair office.
The convenience of on-line ticketing is available for grandstand events, carnival rides and admission.
Grandstand ticket prices for Broncs & Bulls and for the Tractor & Truck Pulls will be $20 for all ages and the Destruction Derby admission is $25. Tickets purchased in advance will include fair admission and tickets purchased the day of the event are in addition to Fair admission. Advance purchase is recommended, as all Grandstand events were sell-outs in 2013.
For parents, the all-you-can-ride wristbands are a great way to go for kids with an unlimited appetite for the spectacular rides. Butler Amusements is offering wristbands, which allow the rider unlimited rides on any one day, for $24 in advance, and 30-coupon booklets for just $20 through May 7. The wristbands are good for any one day of the Fair. During the Fair, wristbands will be $29 and ride coupons will be $1 each. Each ride takes 3-5 coupons.
There are additional discounts on Fair admission as well - guests will save $4 on adult tickets, plus KUIC Radio is sponsoring Thrifty Thursday when all admission tickets are just $5. On Friday May 9, all kids 12 and under are free, plus fairgoers can bring two cans of non-perishable food for the Food Bank of Contra Costa and Solano between 3:00 and 5:00 pm for $2 off of adult general admission.
New in 2014 will be the Best of Show Preview Party on Wednesday evening. The $25 ticket includes a preview of selected exhibit halls, refreshments, music by Yolo Mambo, a fine art Auction, and if purchased by Tuesday, May 6 a complimentary single day ticket good for any one day of the Fair. Preview Party tickets are only available in the Fair office.
For more info: http://www.independentvoice.com/2014/03/28/may-fair-advanced-tickets-now-on-sale-for-admission-shows-carnival